Computers and WiFi
Free computer access in all libraries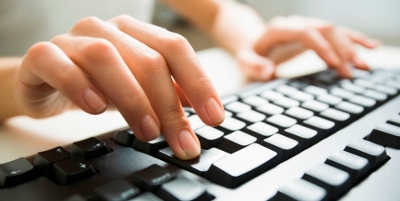 Public Computers
All libraries offer free access to computers, with sessions bookable in one hour slots. You can book by phone, email, online or in person up to a week in advance.
You can book your own session on one of the public computers in all libraries and some community centres using the My PC online booking system. Simply register at My PC with your library barcode and PIN on your phone, tablet or pc. Sessions can be booked up to a week in advance and you may extend your booking if no-one else is waiting.
Customers are encouraged to become members of the library. PCs can be used on a 'one off' basis without registering as a library member but customers must register as a library member at their next visit and they must also agree to the
Acceptable Use of Computers [287.07KB] guidelines.
Boardmaker Plus v.6 software is now available in every library, (on 2 pc's in larger libraries and 1 in smaller libraries). It is advisable to book your Boardmaker session in advance to ensure the pc is free, you can do this online My PC or in person. Resource boxes and instructions are available from library staff.
High Vis/large key keyboards are now installed permanently on one pc in each library.
Help with digital skills - If you would like to learn how to use computers or to improve and up-skill your existing digital skills, library staff can direct you to free tutor led classes provided by Adult Learning in your area. Please email adultlearning@westlothian.gov.uk or Freephone 0800 731 1831.
Standard printing charges
See below our print charges in libraries. Please note print use for job searches or welfare applications is free of charge (up to 10 copies).
A4 paper: 10p per side (black and white), 20p per side (colour)
A3 paper: 20p per side (black and white), 40p per side (colour)
3D printing
West Lothian libraries have a Cel Robox RBX01 3D printer which can be booked to print your compatible 3D design projects. There is no charge for using the 3D printer, however a nominal fee will be charged to cover the materials used.
If you wish to use this resource you must book in advance and be prepared to wait while your design is printed (printing times can be quite lengthy). For further information or to book this resource please contact library.info@westlothian.gov.uk in the first instance.
---
Free WiFi
You can access free WiFi at the following libraries:
Almondbank
Armadale
Simpson Library, Bathgate
Broxburn
Carmondean Connected
Fauldhouse
Lanthorn
Linlithgow
Whitburn
Select West Lothian Council from the WiFi menu
Enter the
WiFi Code [417.49KB]
Select Continue when you have read and accepted the WiFi terms of use.
---
Computer Guides
Easy to use guides to help you make the most of modern technology and improve your IT confidence and skills. Simply visit the Digital Unite website and discover how to create documents, email and Skype, and how to get the best from the Internet and much more.
Help to choose a career, find a job and tips on creating successful CVs and interview techniques. My World of Work