Whitburn Partnership Centre
Currently under construction this Centre is located in the heart of Whitburn.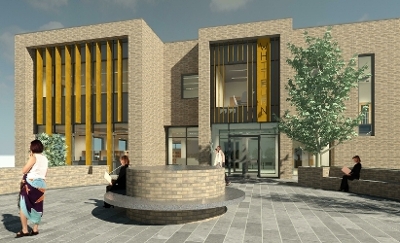 Partnership working brings together a range of council services and partner organisations providing a "one stop shop" in the heart of local communities. Delivered throughout West Lothian, each facility breathes new life into prominent, historic buildings or deliverers purpose-built, multi-functional buildings with maximised accommodation and improved public access but also drive efficiency in overall service delivery (shared reception, offices, rooms, staff, etc.)
West Lothian Council has Partnership Centres across West Lothian, including Livingston, Armadale, Bathgate, Blackburn, Broxburn, East Calder, Fauldhouse, Linlithgow and on completion Whitburn.
The first Partnership Centre in West Lothian opened at Strathbrock in Broxburn in 2005 and the model of partnership centres has since been followed by other local authorities across Scotland.
There have been clear and measurable benefits to the West Lothian community. Access to a variety of services from one location within each settlement is considerably more efficient in terms of providing and receiving services thus, ensuring our citizens receive a comprehensive and contemporary customer experience.
COMPETITION POSTER
Competition poster [117.71KB]
Ryan McCann, a 17 year old from West Lothian, is currently completing a work placement with Maxi Construction as they lead on the development at our Whitburn Partnership Centre project.
You can read more on Ryan's experience via the Maxi Construction website. Please visit: https://www.maxiconstruction.co.uk/training-the-next-generation/
Further information on the Whitburn Partnership Centre Project can be found on the West Lothian Council website: https://www.westlothian.gov.uk/article/44813/Whitburn-Partnership-Centre
Progress Update - June 2022
Scaffold has now been fully removed at Whitburn Partnership Centre to allow the remainder of glazing to be installed. This will be followed by the Brise Soleil next week which will complete the elevations of the building. External works to the main entrance area have commenced and once works are complete on the façade then the ground works will continue. Internal works are mostly complete with flooring and decoration being the main focus.
Artist appointed to design public artwork at the new Whitburn Partnership Centre
An artist has been commissioned to create a new piece of public artwork for the new Whitburn Partnership Development.
A new public artwork will be designed for the courtyard area of the new venue as part of the development at the site of the former Burgh Halls in Whitburn.
The opportunity for this commission was advertised through the Creative Scotland opportunities page and artists applied, were interviewed and Ailsa Magnus was selected through this process.
The project is being supported by local residents who volunteer to be part of the commissioning group, who selected the artist after reviewing all the applications received.
Ailsa Magnus has worked as a public artist in the UK for over 20 years and delivers hands on art workshops for participants to explore, casting, print making or even working with textiles.
Ailsa has worked in Fauldhouse to design their public art project which is still currently under development and will be working in Whitburn for the duration of the construction of the new partnership centre.
To learn more about Ailsa's art practice visit her Facebook page at:
https://www.facebook.com/BathgateMusicFestival
To see Ailsa introduce her start up to the Whitburn public art project: https://youtu.be/9RhOlZ3aswc
Or to get in touch with Ailsa directly to take part in activities planned for the Whitburn project email her at:
whitburn.publicart@gmail.com
A number of workshops will be taking place as part of the development of the commission. Information on these will be shared in the near future.
We look forward to the project progressing and will of course keep you all updated. Remember you contact us with questions and comments etc at whitburnpartnershipcentre@westlothian.gov.uk
Plans for the New Whitburn Partnership Centre. The accommodation will host a number of partners along with the providing a new library and museum space.
Whitburn PC Ground Floor Plans [977.6KB]
Whitburn PC First Floor Plans [436.33KB]
Keep an eye on our website for further posts. Let us know if you have any comments via
whitburnpartnershipcentre@westlothian.gov.uk
Part of the centre will house a museum we are looking for Volunteers that would be interested in developing this service, if interested e.mail museums@westlothian.gov.ukor call 01506 283652.
INTRODUCTION
Maxi Construction
Maxi Construction is a West Lothian based business, established in 1971 operating as Principal Contractors throughout central and souther Scotland. Working in all market sectors we have experience in delivering new build, extension, alteration, refurbishment and fit out projects for public and private sector clients including local authorities such as West Lothian Council, The City of Edinburgh Council, East Lothian Council, Falkirk Council and North Lanarkshire Council.
Over the past 10 years we have successfully delivered over 20 projects for West Lothian Council including works to schools and community buildings such as Whitdale Primary School, Linlithgow Partnership Centre, Strathbrock Partnership Centre and Linlithgow Burgh Halls.
John Aitchison, Maxi Construction's Managing Director, commented "We're delighted to continue our association with West Lothian Council in the provision of partnership centres, this time for the benefit of the local community in Whitburn."
The project team includes Architect/Principal Designer Smith Scott Mullan, Quantity Surveyor Brownriggs, Structural Engineer Bayne Stevenson Associates and Mechanical & Electrical Engineer EDP Consulting Engineers.
Follow us on Twitter MaxiConstruct
Follow us on LinkedIn Maxi Construction Limited
Please remember you can contact us at whitburnpartnershipcentre@westlothian.gov.uk
Look out here for more updates.
Data Protection and GDPR