Whitburn Partnership Centre
Currently under construction this Centre is located in the heart of Whitburn.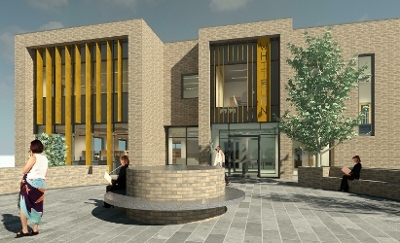 Partnership working brings together a range of council services and partner organisations providing a "one stop shop" in the heart of local communities. Delivered throughout West Lothian, each facility breathes new life into prominent, historic buildings or deliverers purpose-built, multi-functional buildings with maximised accommodation and improved public access but also drive efficiency in overall service delivery (shared reception, offices, rooms, staff, etc.)
West Lothian Council has Partnership Centres across West Lothian, including Livingston, Armadale, Bathgate, Blackburn, Broxburn, East Calder, Fauldhouse, Linlithgow and on completion Whitburn.
The first Partnership Centre in West Lothian opened at Strathbrock in Broxburn in 2005 and the model of partnership centres has since been followed by other local authorities across Scotland.
There have been clear and measurable benefits to the West Lothian community. Access to a variety of services from one location within each settlement is considerably more efficient in terms of providing and receiving services thus, ensuring our citizens receive a comprehensive and contemporary customer experience.
Progress Update - April 2020

April Update [1.25MB]
Your key community organisations meet every few months to discuss the project (Due to Covid19 these meeting have been put on hold) progress and advise partners at West Lothian Council on related community matters. These groups inform and ensure we are keeping the wider community up to date. Whitburn Community Development Trust lead on these communications. Remember if you want to know more you can contact them locally and they will help. There is also the Whitburn Partnership Centre email address for enquiries.
whitburnpartnershipcentre@westlothian.gov.uk
Workshops have been held locally on the museum development within the project and these have been very successful. Look out for notices of further opportunities to get involved.
We will have a factsheet to share with you over the coming weeks. This will detail key facts about the building.
Plans for the New Whitburn Partnership Centre. The accommodation will host a number of partners along with the providing a new library and museum space.

Whitburn PC Ground Floor Plans [977.6KB]

Whitburn PC First Floor Plans [436.33KB]
Keep an eye on our website for further posts. Let us know if you have any comments via
whitburnpartnershipcentre@westlothian.gov.uk
Part of the centre will house a museum we are looking for Volunteers that would be interested in developing this service, if interested e.mail museums@westlothian.gov.ukor call 01506 283652.
CBC Introduction
CBC, are a progressive, privately owned construction company founded in 1971 by our owner and Chairman Sir Jack Harvie CBE. We are managed from our Head Office in Glasgow, and area office in Edinburgh and operate throughout Scotland.

CBC work across a wide range of market sectors delivering bespoke Projects for a range of Clients including Local Authorities, Registered Social Landlords (RSLs), Health Trusts, Private Developers, Leisure and Retail Operators and Universities. Our diverse portfolio of new build and refurbishment contracts includes:
Primary, Secondary and Pre-School Education Campuses,

Residential Developments,

Community Amenities

Sports and Leisure Facilities

Residential Care Homes,

Primary Care Facilities

Public Buildings

Commercial Developments

Industrial Facilities
We also specialise in undertaking comprehensive restoration and conservation Projects on historic and Listed Buildings, and operate our own Stonemasonry division, CBC Stone.
We directly employ our own labour force of skilled, craft trained operatives in traditional, a fact that differentiates us from many of our competitors.
CBC work extensively throughout the Lothians and Edinburgh and, in recent years have completed multiple Projects including the redevelopment and extension to the Xcite Linlithgow Leisure Facility, the construction of a new visitor centre and restoration works at the world renowned Roslyn Chapel, and the comprehensive refurbishment of the KM Central Hotel for the University of Edinburgh.
The meeting provided an update on the project and associated issues listed below:
Timber hoarding will be in place on the front street, but open on other sides allowing public to see in.

The contractor has a robust traffic management plan in place ensuring we minimise town centre disruption.

The present sundial will be lifted to protect it but it will be replaced.

Access to the garage and our neighbours at Polkemmet Social Club will be maintained.

A communications plan will be considered by the Whitburn Key Community organisations at the next meeting.
Please remember you can contact us at whitburnpartnershipcentre@westlothian.gov.uk
Look out here for more updates.
Data Protection and GDPR