Facilities Hire
Beecraigs Country Park has many facilities for hire such as barbecues, room hire, group activities and a secure dog area.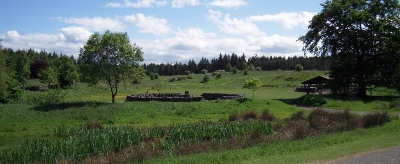 Picnics and Barbecue (BBQ)
BBQ hire - A limited number of BBQ sessions will be available to hire across the three Country Parks (dependent on available resources) so please ensure that you enquire on availability as soon as possible. The available session times have changed to 10:00-13:30 and 13:45-17:15; there will be no evening sessions available.
Barbecue hire and availability information
The Park offers beautiful woodland walks, picnic areas with seating and a barbeque facility. Whilst visiting the park why not have a barbeque with your group.
The barbeque unit, tables, seats and bins are provided for hire and sessions run daily from 01 April 2022 to 30 October 2022

The barbeque facility is available from 10:00-13:30 and 13:45-17:15. Evening BBQ sessions are currently not available

The Barbeque Pits are located at the Balvormie area of the park, close to the public toilets and play area - Location can be seen on the map [1MB]
Disposable barbecues are allowed on the Country Park's designated picnic table stands only - Please note that small groups of less than 10 persons with disposable barbecues, can make use of two picnic tables adjacent to Balvormie car park that have metal plates attached to them, on the condition that they place their BBQ on the metal plate, extinguish their disposable BBQ after use and place the cold BBQ and all refuse in Park bins. No other BBQs are allowed within the Park due to the high fire risk.
Alternatively picnic tables are available to use at the Lochside car park, Balvormie car park and play area.
Barbecue facilities are also available for hire at Almondell & Calderwood Country Park and Polkemmet Country Park(contact Almondell Visitor Centre on 01506 882254 to enquire about both Almondell and Polkemmet BBQs).
Barbecue Cost and booking details
From 1 April 2022
Barbecue Booking Fee per session - £29.10
Barbecue - mid week rate for 15 or less persons - £21.80
Use our Online Booking Form to enquire on booking a BBQ session.
Payment must be made at least two weeks before your BBQ date and a permit will be issued.
Rules of use do apply and can be viewed below.
---
Other Hires available
Beecraigs Country Park can hire out its Target Archery Range/Dog Secure Area and the Sutherland Building (which houses a general purpose room, has toilet facilities and outdoor decking area with picnic tables).
Sorry room hire at Sutherland Building currently not available.
From 1 April 2022
| | |
| --- | --- |
| Hire | Cost |
| Group Hire of Target Archery Range | £17.65 per hour |
| Individual Hire of Target Archery Course | £7.90 per hour (charges for competitions available on request) |
| Group Hire Pioneering Course | £17.65 per hour |
| Hire of the Sutherland Building | £14.55 for first hour and £13.10 for subsequent hours |
Telephone 01506 284516 for further information or to enquire on availability.
Group Activities, Events & Information
Please consult with Park staff well in advance before arranging any group activities and events within the Country Park. You may need to provide additional information in advance and permission may be required. If permission is required for your planned activity/event, it is advised that you seek to have permission in place at least 8 weeks before the activity/event takes place. Please note that where such activities and events require additional services or use of Park facilities, charges may be applicable.
Secure Dog Area
Popular at Beecraigs is the Secure Dog Area, where you can exercise your dog in an enclosed space. Perfect for training or practicing recall with your furry friend! Secure Dog Area
Barbecue pits are available to hire from 01 April 2022 to 30 October 2022. You can request a barbecue session using the form below.