Park Activities
There are many activities to enjoy within Beecraigs Country Park.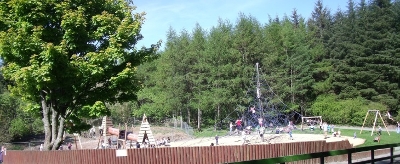 Country Park Closures
The following services within our country parks are CLOSED:
Almondell & Calderwood Country Park - Visitor Centre, public toilets, play area and BBQ area. As of 24/03/2020 the North and South car parks are closed and should not be used.
Beecraigs Country Park - Visitor Centre, Balvormie public toilets and play area, Sutherland Building, Animal Attraction viewing shed, BBQ area, the Beecraigs Caravan & Camping Site, mountain bike trails and Skills Area. As of 24/03/2020 all car parks will remain closed. The Hideaway Cafe at Beecraigs is also closed.
Polkemmet Country Park - West Lothian Leisure facilities, the Scottish Owl Centre, public car parks, play areas and public toilets. As of the 24/03/2020 all car parks will remain closed and should not be used.
All Ranger Service events and bookings have been cancelled until further notice.
There is a need to follow national NHS and Government guidance and difficult decisions have been made to close services within Parks & Woodland in the best interests of public and staff health as the public health threat from Coronavirus escalates. It is vital that social distancing, keeping 2 metres apart and avoiding gatherings is observed.
Fresh air and being outdoors benefits physical and mental wellbeing, and our Country Parks are accessible to local visitors.
Please avoid unnecessary travel and do not drive to West Lothian's Country Parks. Please enjoy your local outdoors responsibly and maintain Social Distancing.
On 9 April 2020 the Scottish Government issued guidance on access rights during the current coronavirus emergency applicable under the Scottish Outdoor Access Code:-
Stay local - please do not travel in your car to take exercise; please make use of the paths, open spaces and quiet roads in your own local area
Maintain your distance - please stay at least 2 metres away from other people and if possible try to avoid busy times on popular paths or places
Respect the health and safety of farmers and others working the land - please follow all reasonable requests and signs to avoid particular areas, such as farmyards, fields with pregnant or young livestock, and other busy working areas
Keep your dog under control - please put them on a lead or keep them close at heel and do not let them approach other people or livestock
Avoid contact - try to avoid touching surfaces and if possible plan a route that does not require you to open gates
Thank you for your continued support over these challenging weeks, your patience and understanding is very much appreciated.
Please help us limit the spread of Coronavirus. For further information:
---
Know the code before you go - Scottish Outdoor Access Code