eBooks
Download eBooks to a wide variety of devices for free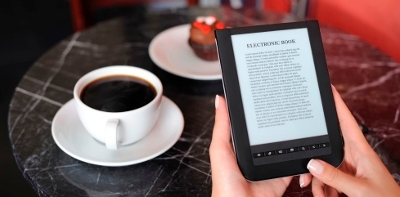 ---
eBook Provider
You can now experience the world of eBooks and eTalking Books together using BorrowBox.
Register once and download eBooks or eTalking Books to your device using the BorrowBox app.
Full instructions are given on the site or have a look at the guides below.

West Lothian BorrowBox Quick Start Guide [164.02KB]

West Lothian eBooks and eTalking Books How to Guide [9.12MB].
How do I register?
Simply register on the site with your library barcode and PIN (usually the last four digits of the phone number we have on record for you), then login and start searching.
What can I borrow?
You can borrow or reserve up to six eBooks for free from the West Lothian eBooks site, and download them to a wide variety of devices.
How long can I borrow them for?
You can borrow eBooks for 21 days but you can return your eBook early to release the credit and borrow another eBook.
eBooks can be download to an eBook reader, tablet, smart phone, computer and laptop. They cannot be downloaded to the Kindle reader due to Amazon's policy, but can be downloaded to a Kindle Fire. You can also search and download eBooks using the West Lothian - Online Catalogue.
eBook content
The library services aims to have a varied selection of eBooks available to our customers. We have moved to a new provider over the last few months and plan to add more content to increase the collection on a monthly basis. As we operate within a small budget stock suggestions can be made by emailing library.info@westlothian.gov.uk. Please give details of the book you would like to suggest and why you feel it would be a worthwhile addition to stock. All recommendations will be considered, but it may not be possible to purchase all suggested items.
eBook of the month
Check out the latest eBook titles available this month.

New eBooks [208.24KB].
This month's eBook of the month is Cilka's Journey by Heather Morris.
Based on the heart-breaking true story of Cilka Klein, Cilka's Journey is the sequel to the internationally No.1 bestselling phenomenon, The Tattooist of Auschwitz

In 1942 Cilka Klein is just sixteen years old when she is taken to Auschwitz-Birkenau Concentration Camp. The Commandant at Birkenau, Schwarzhuber, notices her long beautiful hair, and forces her separation from the other women prisoners. Cilka learns quickly that power, even unwillingly given, equals survival.
RNIB
The RNIB website has some helpful information available on eBooks and digital reading.
RNIB eBooks and digital reading
If you experience any difficulties logging into your library account please contact library.info@westlothian.gov.uk