e-Books
Download e-Books to a wide variety of devices for free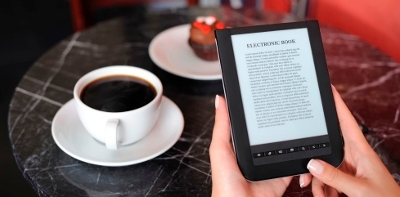 ---
e-Book Provider
You can now experience the world of e-Books and e-Talking Books together using BorrowBox.
Log in/Register here and download e-Books or e-Talking Books to your device using the BorrowBox app.
Full instructions are given on the site or have a look at the guides below.

West Lothian BorrowBox Quick Start Guide [164.02KB]

West Lothian eBooks and eTalking Books How to Guide [9.12MB]
How do I register?
Simply register on the site with your library barcode and PIN (if you require help with this please email library.info@westlothian.gov.uk), then login and start searching.
What can I borrow?
You can borrow or reserve up to six e-Books for free from the West Lothian eBooks site, and download them to a wide variety of devices.
How long can I borrow them for?
e-Books loans are for 21 days and your loan will automatically expire after this time but you can return your e-Book early to release the e-Book for other users and borrow another e-Book.
e-Books can be downloaded to computers and laptops directly from our online catalogue or by downloading the free BorrowBox app to Apple devices, android tablets and smart phones. They can be downloaded to a Kindle Fire but cannot be downloaded to the Kindle reader due to Amazon's policy.
e-Book content
The library services aims to have a varied selection of e-Books available to our customers and add more content to increase the collection on a monthly basis. As we operate within a small budget stock suggestions can be made by emailing library.info@westlothian.gov.uk. Please give details of the e-Book you would like to suggest and why you feel it would be a worthwhile addition to stock. All recommendations will be considered, but it may not be possible to purchase all suggested items.
Children's e-Books
We have a wide selection of children's e-Books suitable for all age ranges and add to our collections monthly. Check out the latest children's e-Book titles available
Adult e-Books
Check out the latest adult e-Book titles available
This month's adult e-Book of the month is The Key to Rebecca. A gripping thriller set during the Second World War, from the author of Eye of the Needle Ken Follett. Multiple copies available, download yours now! The Key to Rebecca e-Talking book read by Tim Downie also available.
The stakes are high, for the survival of the British campaign in North Africa is in the balance.
'Our spy in Cairo is the greatest hero of them all . . .' Field Marshal Erwin Rommel, September 1942.
He is known to the Germans as 'Sphinx', to others as Alex Wolff, a European businessman. He arrives suddenly in Cairo from out of the desert, armed with a radio set, a lethal blade and a copy of Daphne du Maurier's Rebecca - a ruthless man with a burning, relentless conviction that he will win at all costs.

The stakes are high, for the survival of the British campaign in North Africa is in the balance. Only Major William Vandam, an intelligence officer, and the beautiful courtesan Elene can put an end to Wolff's brilliant clandestine reports of British troop movements and strategic plans.

As Rommel's troops come closer to victory, Vandam edges nearer to Wolff and the crucial key. Follett builds tension and suspense to a nerve-tearing pitch as he follows the adversaries across the infernal desert to a confrontation which will determine who wins - and loses - in this deathly struggle.
RNIB
The RNIB website has some helpful information available on eBooks and digital reading.
RNIB eBooks and digital reading
If you experience any difficulties logging into your library account please contact library.info@westlothian.gov.uk