Community Planning Logo Small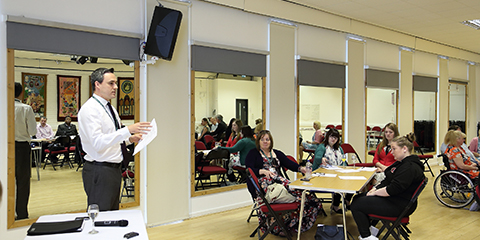 Community Engagement
Involving local people in decisions that affect their lives is a key responsibility of the Community Planning Partnership. The Partnership have developed a Community Engagement Plan to support the Local Outcomes Improvement Plan.
This plan sets out how community engagement will be further embedded across the Community Planning Partnership, through developing a clear, consistent and coordinated approach to engagement and providing opportunities for people to get involved at the level they want.
By improving and embedding community engagement practice across the partnership we can ensure that our communities are genuinely engaged and empowered and can therefore be involved in decisions that affect their lives. By achieving a common understanding of community engagement at all levels of the partnership, coordinating and consolidating community engagement activity, and ensuring that staff and community members have the right tools to undertake engagement that is appropriate and fit for purpose, we can help to achieve active and empowered communities. We want to achieve better quality engagement that is effective and influential and informs decisions and service provision. Improving community engagement, and the structures, processes and practices that help deliver it will ultimately result in improved outcomes for our communities.
A

Community Engagement Practitioners Network [107kb] has been established to take forward the Community Engagement Plan.
Police Scotland - Your View Counts
Police Scotland is running an online consultation which is open all year round. This gives local people the opportunity to tell Police Scotland what is important in their community. This is an online consultation called Your View Counts which can be accessed here.
Engaging Communities Training
An Engaging Communities Training Programme has been developed to help improve skills and knowledge around community engagement. The first series of workshops have been running over the last 5 months are have now come to an end. The programme aims to provide participants with a range of information and tools relating to community engagement and links to the the Engaging Communities Toolkit (detailed below) which has been developed by West Lothians Community Engagement Practitioners Network.
Engaging Communities Toolkit
An

Engaging Communities Toolkit [669kb] has been developed by the Community Engagement Practitioners Network as a practical resource providing information and guidance on community engagement. It aims to support a range of individuals and groups in the planning and delivery of community engagement and more generally promote and improve community engagement practice in West Lothian.
Equality and Diversity Grant Scheme
The Equality and Diversity Grant Scheme aims to support community groups and organisations to develop or promote initiatives, events or projects that aim to tackle inequality in West Lothian. the main aims of the Equality and Diversity Grant Scheme are to;
Fund initiatives, events or projects which bring community benefit.
Involve people in the community by brining them together to foster good relations.
Find out more about the funding your group or organisation may be eligible for

here [160kb]
Equality Forums
The CPP supports a number of equality forums which provide a platform for partners to gain an understanding of the diverse experiences of our communities and provide direct access to representatives of the protected characteristics for consultation and engagement purposes. Some forums are engaged in positive policy discussion whereas others have focused attention on community engagement activity. The forums enable us to progress the key theme of the Local Outcomes Improvement Plan, 'Tackling Inequality', and link in to the Community Engagement Plan - giving a voice to typically hard to reach populations.
Let's Talk Equalities events are held to provide an opportunity for members of the equality forums to meet informally, share practice and learn from each other, as well as identify issues and challenges of common interest across the protected characteristic groups. Feedback from these sessions has been particularly encouraging and the format has been seen to add significant value to the work that the Forums are engaging in.
West Lothian Access Committee
West Lothian Access Committee, a sub group of Disability West Lothian, works across the private, public and third sector to remove physical and attitudinal barriers to equality, and to promote all aspects of independent living within the West Lothian community. West Lothian Access Fund is available to charitable and voluntary organisations to improve access and use of facilities or premises. Applications are made through the Access Committee and administered by West Lothian Council. Contact details; West Lothian Access Committee, Disability West Lothian, James Young House, Pumpherston, EH53 0LQ.
Web address is www.disabilitywestlothian.org and email address is Administrator@disabilitywestlothian.org. To contact by phone, 01506 774030 and text phone 01506 774044.
Updated at 30 July 2018, 11:13AM