New home for Holy Family
Building has started on a new home for Holy Family Primary School in Winchburgh.
28 September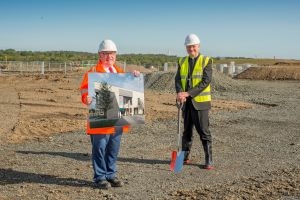 A new state-of-the-art school is currently being built, which will allow Holy Family to move from their current shared site with Winchburgh Primary.
This will allow both schools to grow along with the expanding Winchburgh community when it opens in 2023.
The new school is part of West Lothian's largest ever investment in education, a £60.7 million multi-schools project which will deliver the new Holy Family primary and two secondary schools as well as a shared sport, leisure and community facility.
Executive councillor for education David Dodds said: "It's fantastic to see work starting on another superb new school in West Lothian.
"The council has invested heavily to make sure we continue to have one of the best school estates in the country, to give our pupils the best possible platform for education.
"The new Holy Family Primary will increase capacity for both denominational and non-denominational primary education in Winchburgh, which is essential due to the ongoing development in the area."
He was joined by Archbishop Leo Cushley, whose archdiocese of St Andrews and Edinburgh includes West Lothian, in marking the start of construction of the new school.
Archbishop Cushley said: "I was delighted to be invited to mark the start of construction for the new Holy Family Primary School.
"When completed, the new Holy Family will stand side by side with the new Sinclair Academy, allowing strong links to develop between the two school communities.
"The new state-of-the-art facility will be an excellent dedicated home for Holy Family for many years to come."
The project is being delivered on behalf of the council by its development partner Hub South East, with Morrison Construction as the primary contractor.
This is the same team who successfully delivered the award-winning West Calder High School, so have a strong track record with new schools.
Scott Brown, Hub South East's Projects Director said: "We're delighted to mark the start of construction on-site for the new Holy Family Primary School.
"We look forward to working with West Lothian Council and our supply chain to ensure the project is delivered successfully, realising positive benefits for the local area, as well as the staff and pupils who will enjoy the new, modern facility."
Eddie Robertson, Managing Director for Morrison Construction Building Central, commented: "It's great to get underway with this project on site. Working in partnership with the Council and Hub South East - the same team that delivered the award-winning West Calder High School - we are looking forward to creating a fantastic new facility, contributing our part toward a high-quality education for local children."
The schools project is partly funded with the support of a unique tri-partite agreement between West Lothian Council, The Scottish Government and Winchburgh Developments Ltd (WDL), a joint venture between West Coast Capital and CALA Homes.
WDL is the lead developer on the £1 billion masterplan for Winchburgh which will deliver new greenspaces including the 78-acre Auldcathie District Park, a new canal marina, improved transport links, including a new railway station, and at least 3,800 new homes.
Over 5,000 new jobs are expected to be generated by the completion of the overall Winchburgh masterplan.
John Hamilton, CEO of Winchburgh Developments Ltd added: "The new Holy Family Primary School will provide crucial education capacity for Winchburgh, and its location, adjacent to the Auldcathie District Park is a great bonus for the staff and pupils who will soon enjoy this fantastic new building.
"It's great to see work starting on site now, marking another important milestone in the delivery of the full Winchburgh masterplan."