Local Outcomes Improvement Plan
West Lothian's Local Outcomes Improvement Plan sets out how the Community Planning Partnership will deliver improved outcomes for its communities.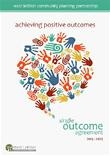 Local Outcomes Improvement Plan (LOIP)
Local Outcomes Improvement Plans are the mechanism by which Community Planning Partnerships deliver improved outcomes for their communities. They are based on a clear understanding of local needs and reflect agreed local priorities, as well as the National Performance Framework developed by the Scottish Government.
The Community Empowerment (Scotland) Act 2015 has given CPP's a clear statutory purpose focused on improving outcomes, reducing inequalities and community participation. The Act requires the Community Planning Partnership to produce two types of plan which describe our local priorities and how we plan to improve on these; A Local Outcomes Improvement Plan (LOIP) and Locality Plans. In May 2016, the CPP Board agreed that what was the Single Outcome Agreement largely met the requirements of a local outcomes improvement plan (LOIP) set out in the Community Empowerment (Scotland) Act 2015, and formally adopted this as the LOIP.
A ten year
Local Outcomes Improvement Plan [4.84MB]has been developed for 2013-2023. 'Achieving Positive Outcomes' is West Lothian's LOIP and sets out West Lothian Community Planning Partnership's long term vision for West Lothian. It sets out the local outcomes the CPP will prioritise and how the CPP will deliver on these.
The
Community Engagement Plan [750.03KB]aims to further improve and embed community engagement across the Partnership. By developing a clear, consistent and coordinated approach to engagement, and by providing the appropriate tools and support to evaluate how we are doing, we can achieve more meaningful community engagement.
The
Anti-Poverty Strategy [2.03MB]is also key to the delivery of the Local Outcomes Improvement Plan. This is West Lothian Community Planning Partnership's plan of how we intend to tackle poverty in West Lothian. This strategy has an overall purpose to help minimise the impact of poverty on the people of West Lothian. Its object is to ensure that people are equipped to cope with the challenges they currently face; those of the current, deep, economic recession and the welfare reforms.
These enabling plans will help us to deliver our LOIP and achieve transformational change. Our LOIP in West Lothian is enabled by the delivery of our unique and innovative life stages approach.
An
Annual Report [16.11MB] has been developed which outlines the Partnerships progress on delivering the LOIP over the last year.
Live performance information on the Local Outcomes Improvement Plan is available showing performance against each of our 8 local outcomes.
The CPP Prevention Plan was developed in 2013 and included the positive steps the CPP had already taken with regard to early intervention and the CPP's commitment to further embed the agenda within the CPP. The CPP has long seen the benefits of taking a more preventative, early intervention approach and the impact of this can be seen across a number of services and outcomes. Prevention and early intervention are now embedded within how the CPP operates and CPP plans and strategies are very clear about how the partnership will take forward this approach. It was therefore agreed by the CPP Board at the 20 November 2017 meeting that it was no longer necessary to have a separate CPP Prevention Plan and this was retired. A copy of the plan can be found in 'Related Documents' for reference only.
Community Planning Strategic Assessment
West Lothian Community Planning Partnership is one of the first in Scotland to complete a partnership wide Strategic Assessment. The purpose of the Strategic Assessment was to help us identify, assess and prioritise what is important for West Lothian's communities, and enable the setting of achievable and demonstrable outcomes for the Local Outcomes Improvement Plan. The Strategic Assessment process enabled the CPP to undertake evidence based prioritisation and planning through identifying and assessing trends, emerging themes and priority areas of concern for West Lothian. The Partnership has been able to develop an evidence based, intelligence led set of priorities on which to base its Local Outcomes Improvement Plan, and in addition, a new and robust model and enthusiasm for collecting and analysing collective data.
In addition to the full version of the
Strategic Assessment [591.87KB], a
summary [47.37KB]version and
Terms of Reference [26.62KB] have also been produced.
Strategic Environmental Assessment
The WLCPP has undertaken a Strategic Environmental Assessment (SEA) screening review of the Local Outcomes Improvement Plan to review whether it will result in significant environmental impacts. The WLCPP has consulted with Scottish Natural Heritage, Scottish Environmental Protection Agency and Historic Scotland and has concluded that significant environmental effects are not likely and so an SEA is not required. An
SOA Strategic Environmental Assessment Screening Determination [73.47KB] has been made to this effect, along with the
Statement of Reasons [77.9KB] behind this.
West Lothian Regeneration Framework
A 20 year
Regeneration Framework [236.14KB] has been developed for West Lothian. The Framework sets out the principles underpinning a 20 year plan to reinvigorate and invest in West Lothian communities through targeted action to improve the life chances of those living in the most disadvantaged communities. Regeneration is a long term process which attempts to bring about transformational change to improve the lives of individuals, families and communities. The framework highlights key challenges to be tackled, actions that can be undertaken in the short to medium term and key indicators measuring change over the medium and long term.