5. Five Sisters Shale Bings near West Calder
These oil-shale bings, nicknamed the "Five Sisters", are hard to miss when using the Queensferry Crossing. Shale Bings are unique to West Lothian and now form distinctive and well known landmarks.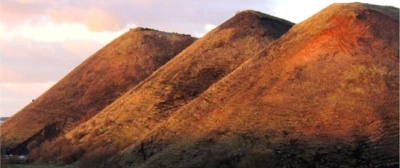 The characteristic of Five Sisters red colour is produced by the weathering of the initially blue-grey burnt oil-shale. This waste is non-toxic, alkaline and freely draining; in addition the particles are more cohesive than in coal waste. Variations in the chemical composition of the different bings produce a wide range of habitats and new niches for plants and animals. The "Five Sisters" are such a significant part of the industrial heritage of West Lothian that they are now protected as a Scheduled Monument. Nearby site Skolie Burn by Addiewell (25).