Community Waste Awareness
Information on roadshows and events throughout West Lothian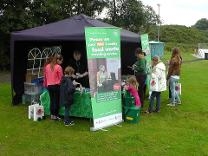 Privacy Notice-Operational Services-Waste Services general customer enquiries (email, letter and phone) [58.11KB]
The Waste Team attends free, local roadshows and events throughout West Lothian. The roadshows and events provide waste minimisation and recycling information for residents. Information Leaflets and fun activities for children are available to residents as well as recycling questionnaires to gather public feedback on West Lothian recycling services.
We are on hand to answer questions and discuss the following recycling services:
National reuse and reduction campaigns
Please join the West Lothian Council Facebook and Twitter pages for up to date information.
---
Community Waste Talks
Talks are available to community groups to discuss waste minimisation and recycling topics and the recycling services provided by West Lothian Council. Topics covered include:
What can be recycled in West Lothian
What happens to recycled materials once West Lothian Council collects it
Waste and recycling legislation
Each talk can be tailored to suit your group's time and information requirements. The Waste Team can travel to your group and provide all presentation equipment and information.
---
Information leaflets
A range of leaflets are currently being developed to provide residents with information about the recycling services available in West Lothian. Please download the electronic versions below.
---
Previous Activities
The Waste Education and Engagement Team held 2 Prom Boutique events in Bathgate Partnership Centre. Both events were very successful and lots of happy young ladies went home with beautiful dresses. The fashion industry is a big contributor of greenhouse gases to the atmosphere, so by choosing to re-use our pre-loved dresses we all helped to prevent climate change. The combined events also made £160 which was given to West Lothian Youth Action Project and The School Bank.
Lynn and Lindsey also visited Armadale Cubs for some fun Reduce, Reuse, Recycle activities. Everyone enjoyed reusing newspaper to make paper pots to plant seeds and the biodegradable game encouraged everyone to think about the waste they throw away and how long it takes to break down. We also learned about reusing plastic bottles by using milk bottles to make elephants. Every Cub also received a recycled ruler and pencil made from recycled jeans!
The team also took a group of residents from Kirknewton to visit Levenseat, our grey, brown and food waste recycling facility. Everyone learned about what happens to our waste after it has been collected and how this is processed before it is either recycled, landfilled or burned to produce energy from waste.
Recycling Residents
The Waste Education and Engagement team work with many residents and community groups in West Lothian and we are always interested in hearing about your experiences taken from our talks, trips and activities. Please see some excerpts below from residents within West Lothian.
Recycling - let's get it right