Gift o' the Gab - Communication Project
West Lothian libraries are proud to announce our new communication project, 'Gift o' the Gab' which will begin in late Autumn 2019. This project is supported by the Scottish Government Public Library Quality Improvement Fund.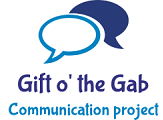 Did you know 2019 is the Year of conversation? For people facing communication barriers due to injury or illness, holding conversations does not come easily and we know that everyone has a wonderful story they'd love to share about themselves e.g. life experiences, work, hobbies or a memorable event.
We would love to help these stories be told using text, photos, pictures or video to ensure their stories are never forgotten.
Our professional storyteller will help participants translate their stories and will even help trace family trees. The wonderful library staff working with the project will also help the participants create their own individual communication passports, story booklets, e-booklets and/or videos, using their own words and dialect, photo's and pictures of their own choice.
The main aim of our project is to encourage participant socialisation and above all for everyone involved to enjoy the experience in a safe, relaxed and welcoming environment.
Participants can provide as much or little information as they are comfortable with and confidentiality will always be respected. Each participant will leave the project with their own story to keep forever in which ever format/s they choose.
'Gift o' the Gab' is open to adults of working age who live or work in West Lothian and are experiencing communication barriers due to illness or injury.
Each programme will run over 6-8 weeks on a Wednesday afternoon and will last no longer than 2 hours. So if you or anyone you know would like to take part in 'Gift o' the Gab' and can spare a couple of hours a week to join us for a cuppa and have some fun, please get in touch. A partner, relative, friend or carer is more than welcome to accompany participants.
Contact us by email library.info@westlothian.gov.uk or leave your contact details with a member of staff in Your Library and we will get in touch with you.