Arts & Learning
Schools across West Lothian can access a broad range of arts education programmes provided by Community Arts.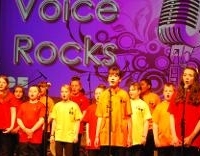 We believe that arts and cultural activities can make an important contribution to formal education and support learning and teaching across the curriculum.
We provide a programme of high quality arts education projects for pupils and Continuing Professional Development opportunities for teachers. We work with professional artists and arts organisations to develop projects which use the arts to support the development of new skills and educational attainment through a programme of work targeted at children of school age including nursery, primary, secondary and those with additional support needs.
Projects include:
Working with a range of partners, including the National Youth Choir of Scotland and the Royal Conservatoire of Scotland, to deliver the Youth Music Initiative which delivers the Governments' target that "every school pupil in Scotland should be offered a year of free music tuition by the time they reach primary six".
Working with Education Services to develop West Lothian's Creative Learning Network which aims to embed creativity in learning and teaching through the Curriculum for Excellence.
Year 15 of the Youth Music Initiative started in August 2017 and finished in June 2018. Community Arts successfully secured £220,896 funding from Creative Scotland for a further year providing a programme of opportunities for school pupils to participate in a variety of singing and instrumental projects and supporting CPD for teachers.
The aim of the Creative Learning Network (CLN) is to champion the arts, culture and creativity in schools within the overarching context of the Curriculum for Excellence for the long term benefit of learners.