Playlab
Playlab is the perfect way to encourage your children to learn. The course helps parents to explore fun ways to play games with their children and to get involved in their learning. Come along and invent your own games and activities to use in the house or out and about!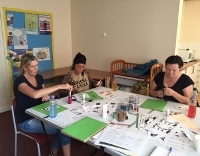 Learners on the Playlab course have made board games, dice games, throwing games using words and numbers, and other fun and practical activities.
They have also found out about child brain development, and how play can help support their children's learning. And they've done all this with the support of other mums and dads!
Playlab has run in partnership with several family organisations including Sure Start, schools and Social Policy.
"I feel happy to make up games and play with kids a lot more than before. I made new friends, and also used my brain a lot more!"
How to sign up
To sign up for the course, you will need to fill and out and return a
sign up form [46KB]. Please return the completed form to us by email or by post. Your key worker can help you to do this.
When we receive your sign up form, we will add you to the waiting list for the next run of the course. We will then contact you when a space becomes available.
In the meantime, for further information about the course, contact us at any time.