Barbecue Hire
The Park offers beautiful woodland and riverside walks, picnic areas with seating and a barbeque facility. Whilst visiting the park why not have a barbeque with your group.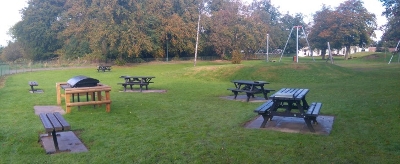 Facilities
The barbeque unit, tables, seats and bins are provided for hire and sessions run daily from 27 March - 1 November 2020
The barbeque facility is available from 10am - 2pm, 2.30 - 5.30pm and 6 - 10 pm.
---
Barbecue prices and booking details
From 1 April 2020
Barbecue Booking Fee - £27.15
Barbecue - mid week rate for 15 or less persons - £20.35
Barbecue Booking Fee per session - to be confirmed
Barbecue Reduced Rate available (morning or afternoon) mid-week excluding Public Holidays for 15 or less persons - to be confirmed
Barbeque application forms are available from the Visitor Centre or use our Barbecue (BBQ) Hire - Online Booking Form.
If you wish to host activities and events within the Country Park, charges may apply. Please check with Visitor Centre staff before organising your event. All groups using the Country Park are asked to please register their details at the Visitor Centre in advance of their visit.
---
Barbecue Rules of Use
Abide by Parks & Woodland's Management Rules, including no undue disturbance/annoyance to other Park users or which interferes with their peaceful enjoyment of the countryside
Ensure planned activities during visit are approved by the Country Park in advance
Consumption of alcohol by over 18's only is allowed within the barbecue areas by those issued with the appropriate permit
Responsible adults (over 18's) must be in attendance throughout the booking to supervise the group
Booking fees are non-returnable. Alternative dates within the current season are not given due to adverse weather conditions
The barbecue facility is available from 10am to 10pm, Monday to Sunday inclusive. For the opening and closing dates of this facility please contact the Visitor Centre of the respective Country Park
Barbecue groups must not leave any litter or rubbish within the Country Park, except in the receptacles specifically provided for use of the barbecue sites. Groups must make prior arrangement to remove any excess refuse. Failure to do so will result in an additional charge of £20 per hour for additional maintenance services
Only charcoal should be used on the barbecue units. Groups must bring with them charcoal, firelighters, matches, aluminium foil, tools, etc. as required. It is recommended that you allow approximately 5 kilos of charcoal per 25 persons. Allow 1 hour before starting to cook. This will avoid tainting of food from the fire lighting agent. Gas barbecues are not permitted
Hot coals must be left within the firebox. Never put hot coals into litter bins or onto the ground
Disposable barbecues can be used on the metal stands placed on designated picnic tables
For safety reasons, gazebos and tents are not permitted
Extra litter bags are available from the Visitor Centres