Animal Attraction
At Beecraigs, visitors can experience the Red Deer herd, Highland Cattle fold, Belted Galloways and Hebridean and North Ronaldsay Sheep.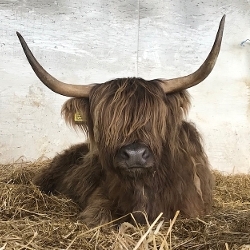 The animal attraction at Beecraigs Country Park is a great place to visit. The Park is open throughout the year and admission is free.
The Sutherland Way walkway provides access between the fields and provides visitors with views across the landscape and of the Belted Galloways, Highland Cattle, Red Deer and Hebridean and North Ronaldsay Sheep.
Our viewing shed, gives closer access to view the animals. The shed is also used for lambing, calving cows and as extra winter housing.
Please contact the Visitor Centre for up to date information on which animals are able to be viewed.
---
Customer Satisfaction and Feedback Survey
Please help us to improve our service to you by completing our survey - Parks & Woodland Customer Evaluation

---
Animal Attraction updates
Preparations are underway as the lambing season approaches.
---
Red Deer herd
Established in 1977, the red deer herd is maintained as a visitor attraction. Guided walks are run throughout the year. Visitors are welcome to enjoy the views from the raised platform and explore the walkways through the fields.
Calves can be born from April/May onwards and sightings of the young calves may be possible as you walk down the Sutherland Way footpath. Winter visits to the Animal Attraction give visitors excellent opportunities to see and hear impressive red deer stags roaring during the rut. In the winter female hind deer can be viewed (up close) from just behind the Visitors Centre.

---
Highland Cattle fold
You may meet the Highland Cattle fold that arrived at Beecraigs in the summer of 2010. This naturally hardy breed are a welcome attraction at the Country Park having been sourced from the award-winning cattle based at Glasgow City Council's Pollok Country Park. The cows with their young are popular with visitors and keep a look out for our our 6 year-old "Woodneuk" bull called "Jock".

---
Belted Galloway Cattle
The 'Belties' joined the Beecraigs' Animal Attraction in June 2014 coming from the renowned Barwise Herd near Appleby and are an interesting contrast to the Highland Cattle.
They can all be viewed from the Sutherland Way area. Originally from Galloway in the west of Scotland this cattle breed, with its double layer coat of long shaggy top coat and thick thermal undercoat, is well suited to year-round outdoor rough grazing and it produces a quality marbled beef. This hardy, easy-care, slow growing breed will fit in well with our other native Scottish animals at the Attraction.
The Belties along with the Highland cattle are now being used for conservation grazing in the Autumn to help manage the two wildflower meadows at Beecraigs. They do this by eating out the more vigorous grass and allowing wildflowers to grow.
---
Hebridean Sheep
In August 2015 a flock of 20 Hebridean Sheep added a new dimension to the Beecraigs' Animal Attraction. This relatively small, fine boned sheep has black/brown/Grey wool with glossy black hair on its face and legs. Both sexes commonly display two or more black horns and have hazel/yellow-brown eyes.
---
North Ronaldsay Sheep
North Ronaldsay sheep have been welcomed to the Beecraigs Animal Attraction, a very rare native Scottish breed sheep (there are only 500 registered ewes left). They are a similar, hardy ancient rare breed to the Hebridean sheep, being small and fine boned but come in a range of colours (shades of beiges and browns), some have horns and some don't. There is hope that these sheep can be used as a breeding flock in the future, part of a national breeding program designed to save the breed.
---